Julie Fuller Swanzy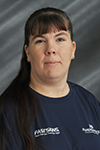 Bindery Department
Julie has been with PaperGraphics for 15 years, overseeing the Bindery Department. She has a vast, working knowledge of all forms of bindery and production and is a vital part to the day to day operation of the Production Department.
Julie has five children; Cheyenne(20), Kaycee(18), James(14), Emilee(12) and Gracie(10). As you can imagine, when we're not keeping her busy here at PaperGraphics, she is kept quite busy keeping up with her children and husband Jeremy.
She enjoys, working out, fishing, reading, bowling, swimming, camping and going to the movies. She likes to spend her spare time with her family and friends.